Gulf Shores, AL Hardware Store
Orange Beach Hardware is a renowned destination for all hardware needs, proudly serving the Gulf Shores community and its surrounding areas. With an extensive selection of products and an unwavering commitment to customer service, this Gulf Shores Hardware store has carved a niche for itself in the local market.
Gulf Shores Hardware Store Supplies
Located at 27525 Canal Rd, Orange Beach, AL 36561, Orange Beach Hardware is more than just a traditional hardware store. It's a one-stop shop that caters to the varied needs of homeowners, DIY enthusiasts, and professional contractors. The store boasts a wide range of products, here are just a few:
Tools: Orange Beach Hardware is renowned for its vast selection of tools, catering to both DIY enthusiasts and professional contractors. From basic hand tools to advanced, professional-grade equipment, we have everything you need for your construction projects.
Gardening Equipment: For those with a green thumb, Orange Beach Hardware offers a comprehensive range of gardening equipment. Our collection ensures that you have the right tools to maintain your garden, from seeding to harvesting.
Painting Supplies: Whether you're touching up a room or undertaking a complete home makeover, Orange Beach Hardware's painting supplies are second to none. We offer an array of painting essentials, including paints, brushes, rollers, and more, ensuring a flawless finish for your project.
Grills: Planning a weekend barbecue? Look no further than Orange Beach Hardware for a new grill. Our collection includes a variety of grills, perfect for any backyard cookout.
Plumbing Supplies: Orange Beach Hardware is a trusted source for plumbing supplies in Orange Beach. We offer a wide range of fixtures, parts, and supplies that cater to both minor repairs and major plumbing projects.
Electrical Equipment: When it comes to electrical equipment, Orange Beach Hardware has got you covered. Our inventory includes everything from generators to wiring to other electrical essentials, making us a go-to destination for all your electrical needs.
Cleaning Products: Maintaining a clean and healthy home or work space is easier with cleaning products from Orange Beach Hardware. We stock a wide variety of cleaning solutions, tools, and supplies, helping you keep your spaces spotless.
One of the key services offered by Orange Beach Hardware is their key-cutting service. Whether you need a spare set of keys or you've lost your only set, the trained professionals at Orange Beach Hardware are ready to assist. They have the skills and equipment to cut keys accurately, ensuring they work smoothly and reliably.
Gulf Shores Decking Supplies
For those looking to spruce up their outdoor living space, Orange Beach Hardware offers decking supplies. From raw materials to accessories and finishes, they have everything you need to build a beautiful, durable deck. Their knowledgeable staff can provide advice on the best materials for your project and guide you through the building process.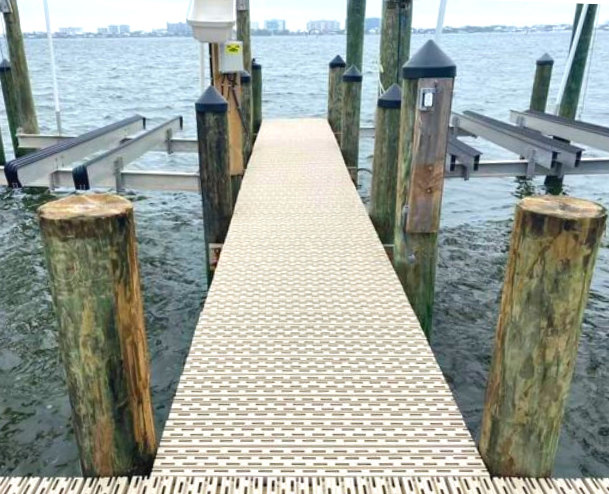 Orange Beach Hardware is highly regarded for its Flow-Thru Vinyl Decking, a product that has become a popular choice for docks thanks to its superior strength and durability. This decking material offers significant resistance to high tides and waves, making it an ideal choice for homes and businesses in Gulf Shores. The open design of the Flow-Thru Vinyl Decking reduces wave uplift loading, thus enhancing the longevity of dock structures. It's also maintenance-free and easy to assemble, further enhancing its appeal. This product is not only beneficial for high wind and large wave areas but also adds value and style to your dock or outdoor living space.
Gulf Shores Contractor Supplies
In addition to these services, Orange Beach Hardware also provides a plethora of contractor supplies. These include everything from power tools and hand tools, to safety equipment and construction materials. This makes them an ideal choice for contractors operating in Gulf Shores and the surrounding regions. The store's commitment to stocking high-quality, reliable products has made it a trusted partner for many local contractors.
Do You Need a Local Hardware Store for DIY or Contractor Supplies?
Orange Beach Hardware doesn't just sell products; it provides solutions. The team understands that every project is unique, and therefore, they take the time to understand each customer's needs before recommending products or solutions. This personalized approach, combined with their wide product range, has made them a favorite among residents of Orange Beach and Gulf Shores.
Orange Beach Hardware is more than just a Gulf Shores Hardware store. It's a trusted partner for homeowners, DIY enthusiasts, and professional contractors alike. With a comprehensive range of products, key-cutting services, decking supplies, and Gulf Shores contractor supplies, they have everything you need to bring your project to life. So, whether you're embarking on a DIY project or a large-scale construction job, make Orange Beach Hardware your first port of call.
Contact us for questions or quotes